Fayetteville Workers' Compensation Attorney
When you are at work there is always the risk that you are going to get injured. No one plans for an injury, but they happen, and often when they do workers realize that they are not prepared to live without an income, or they may suddenly have expensive medical bills. When you are injured at work what are your options?
Fortunately, there are a series of laws throughout the United States and in Arkansas designed to help workers who have been injured on the job regardless who was at fault for the injury. The Arkansas Workers Compensation Commission was designed to oversee the Workers Compensation Laws in Arkansas and to provide a fair, efficient, and professional public agency to serve the people of Arkansas.
However, while you may be entitled to workers' compensation under the laws, the process of applying for workers compensation can be daunting and challenging. Trying to negotiate the complicated forms and appeals process can be overwhelming to injured parties, so hiring a workers' compensation attorney increases your chances of receiving benefits. We have extensive experience working with employers and employees at Gunn Kieklak Dennis, LLP, and are prepared to negotiate and litigate any workers' compensation claims. We work for you, and don't get paid unless you do.
What is Workers' Compensation?
Workers Compensation is a series of laws created in 1939 to guarantee that injured workers receive prompt payments when they are injured on the job. The idea behind workers compensation laws is to provide workers who have been injured while performing tasks on the job with some form of compensation so that they can maintain their livelihood. In the past if a worker was injured while on the job the only option they had if they wanted to receive compensation from their employer would be to initiate a lengthy and difficult legal proceedings. These lawsuits took months or even years before the case would be heard before a judge or a jury, and even then the judge or jury would have to decide who was at fault. Since 1939, Arkansas has used no-fault workers compensation to provide automatic benefits to injured workers. These laws apply to any employer who employs three or more full-time employee and allows an injured worker to recover medical costs and lost wages.
If an employee is unable to work because of a job injury, the employer's workers' compensation policy takes care of the medical expenses and pays the employee money to live on until he/she is able to go back to work. In most cases, these benefits are started automatically, without delay or red tape.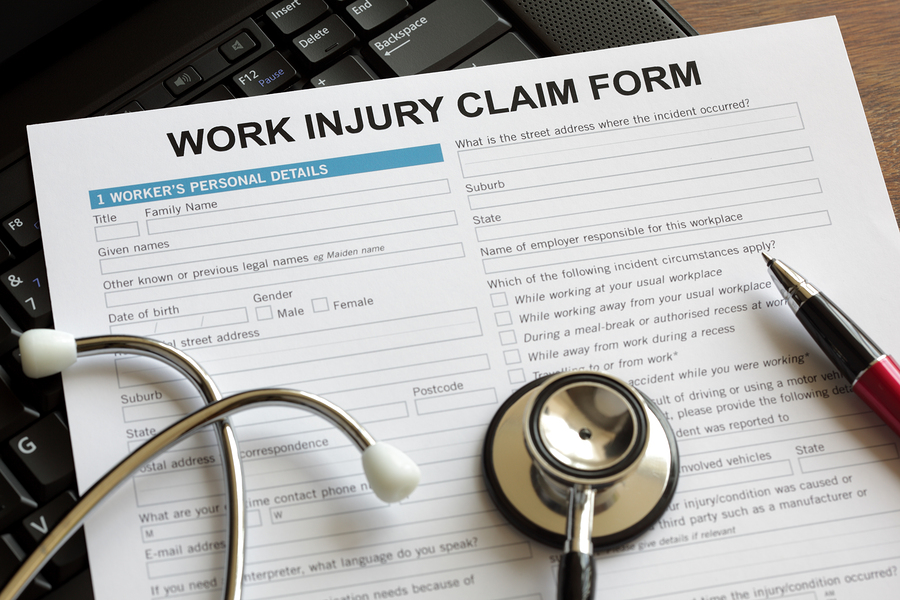 How to get Medical Care and Benefits?
If you have been injured while working, often your first concern is how to begin receiving medical care and benefits. With the rising costs of health care and all of the complicated processes and forms that you often have to fill out when seeking medical treatment, workers who are injured often want to know the fastest way to receive medical care.
To begin, in order for you to begin receiving medical benefits, your employer must report the injury to its workers' compensation insurance carrier by completing a First Report of Injury or Illness. Your employer or your employer's workers' compensation insurance carrier will have a doctor that you should seek treatment from.
It is important that you do everything possible to cooperate with your employer and its workers' compensation carrier, as this will make the process easier for all parties involved. If you do not, your benefits may be stopped or delayed. It is also important that you do all of the following to ensure timely and prompt medical benefits and care:
Complete all workers' compensation forms in a timely manner.
Report any earnings you get after your injury to the workers' compensation carrier.
Get approval from the carrier before receiving treatment. If you are not satisfied with the doctor first assigned, ask your claims handler or carrier to approve another doctor. You may also write to the Commission to request a Change of Physician.
Return to work as soon as the doctor says you can.
Keep all records in a safe place for future reference.
Following these steps is the most efficient way of ensuring that you receive the best medical care and benefits in the least amount of time. Be aware that your right to receive benefits and medical care may end if there has not been payment made or necessary medical care provided for a one-year period.
What Type of Benefits can you get?
When a worker is injured on the job they often wonder what kind of medical benefits they can receive. Often workers who are injured and are unable to work find that they need supplemental income so that they can pay their current bills, as well as paying for medical care and doctors visits. Under Arkansas' Workers' Compensation laws if you are injured you are generally entitled to one or all of the following.
Medical Benefits
Visits to an approved health care provider
Surgery
Hospital care and stays
Physical therapy and rehabilitation
Prescription drugs
Braces, crutches, and casts
Other medical supplies when ordered by your approved physician
However, before you are treated by a doctor you should make sure that your doctor has been approved by your employer's workers' compensation carrier. As long as your employer's workers' compensation carrier approves the doctor that you are seeing, or that you intend to see, then you will not be responsible for the doctor and medical bills. However, if your doctor is not approved, then you may be responsible for the bill.
Temporary Total Disability– Temporary total disability is a form of payment that injured workers may be able to receive when they are currently completely disabled, but when they are expected to make a full recovery and be able to return to work. If you qualify for temporary total disability you will be able to receive up to 66 2/3% of your Average Weekly Wage, or (AWW) until you are able to return to work, or until you reach the maximum medical improvement. Temporary Total disability can continue for up to 450 weeks.
Temporary Partial Disability – to receive temporary partial disability, you must be able to work in some capacity. If you return to work, however, your new job pays less than your previous position, and then you are entitled to temporary partial disability benefits.
Permanent Partial Disability – This type of disability means that you are permanently disabled, but are still able to return to work in some capacity. The benefit a worker receives is based on the severity of your injury. Arkansas law lists dozens of different types of injuries and specifies the benefits for those injuries in terms of the number of weeks of compensation due. Permanent partial disability benefits are paid at 75 percent of the temporary total disability rate. For example, if an injured worker has an AWW of $500 per week, the temporary total disability rate would be $333 (66⅔ percent of $500). The permanent partial disability rate would be 75 percent of the temporary total rate, or $250. A state-mandated minimum factors into this calculation as well.
Permanent Total Disability– State Statutes determine if you are completely disabled and are not able to return to work in any capacity. In these cases, workers compensation will generally pay you 66⅔ percent of your AWW until you reach the state-mandated maximum benefit, based on the date of your accident.
Death Benefits – If a worker dies as a result of a work-related accident, dependents may receive workers' comp benefits. Families are eligible for a one-time funeral expense payment up to $6,000. A widowed spouse, with no dependent children, is usually entitled to 35 percent of the deceased worker's AWW until death or remarriage. If there are also dependent children, the benefit rises to either 50 percent of the worker's AWW or to the maximum compensation rate, depending on the number of children in the home. Other dependents may also be entitled to benefits as listed in Arkansas statute.
Where are the Workers' Compensation Commission Offices?
There are several workers compensation offices throughout the state, where you may go and receive information and file your case. There are workers' compensation offices at the following locations:
Main Office Location:
324 Spring Street Little Rock, AR 72201
501-682-3930
Legal Advisor Division
501-682-2707
Mailing Address:
P.O. Box 950 Little Rock,
AR 72203-0950
Branch Office:
Springdale Division
244 South 40th Springdale, AR 72762-3845
479-751-2790
You may call the Commission at no cost by using our toll-free numbers listed below:
1-800-622-4472 – Little Rock
1-800-250-2511 – Legal Advisor Division, L. R.
1-800-852-5376 – Springdale 1-800-285-1131 – Deaf Access
Put Our Legal Experience in Fayetteville, Arkansas to Work for You
Whether you are seeking Social Security representation, a personal injury litigator, or help with a wrongful death claim, the lawyers of Gunn Kieklak Dennis, LLP are eager to get to know you and understand your situation. Call today for a free and confidential consultation at (479) 439-9840 or contact us online.